This is a dual-width Unicode Han font in Song/Ming style (宋体/明體) with G-source glyphs used in the People's Republic of China. The font was created by merging the "AR PL Mingti2L Big5" font (13,068 CJK Unified Ideographs) and "AR PL SungtiL GB" font (6,763 CJK Unified Ideographs), which were both released by Arphic Technology (文鼎科技) in 2001 under the Arphic Public License. The merged font, comprising 14,907 CJK Unified Ideographs, was then converted to Unicode mappings, and has been expanded to cover a wide range of traditional and simplified characters in the CJK, CJK-A, CJK-B, CJK-C and CJK-D blocks, as well as many general Unicode characters. The original glyphs have been modified where appropriate to match the G-source glyphs given in the Unicode code charts (CJK code chart, CJK-A code chart, CJK-B code chart, CJK-C code chart, CJK-D code chart), although at present not all characters have the correct G-source glyph forms. The font does not incorporate bitmaps, and is best viewed on screen at large point sizes (16pts or greater).
The font is still under development, and has incomplete coverage of the main CJK unified ideographs block (currently missing 1,424 characters). I hope to complete coverage of the main CJK block by summer 2013, but if there are any particular characters (from any CJK block or as yet unencoded) that you need urgently, let me know and I will prioritise them.
BabelStone Han is released under the Arphic Public License, and may be used and distributed freely for personal or commercial purposes. The license also allows you to modify the font in any way you like (e.g. add/remove/modify glyphs or change the character mappings) without seeking my permission, as long as the modified font retains the Arphic Public License. If you do intend to distribute a modified version of BabelStone Han, please ensure that the font name (and all relevant fields in the name table) is changed to something different, so as not to cause confusion between my font and your modified font. In particular, please do not use "BabelStone" in the font name.
To download the font click on the latest version below:
BabelStone Han version 1.05 [

2010-07-03

] (50 blocks; 19,187 characters, including 16,361 CJK unified ideographs)
BabelStone Han version 1.06 [2010-10-01] (54 blocks; 19,688 characters, including 16,818 CJK unified ideographs)
BabelStone Han version 1.07 [2011-03-14] (56 blocks; 20,853 characters, including 17,731 CJK unified ideographs)
BabelStone Han version 1.08 [2011-05-01] (61 blocks; 21,873 characters, including 18,073 CJK unified ideographs)
BabelStone Han version 1.09 [2012-01-23] (67 blocks; 23,110 characters, including 18,776 CJK unified ideographs)
BabelStone Han version 1.10 [2012-06-12] (67 blocks; 25,620 characters, including 21,000 CJK unified ideographs)
BabelStone Han version 1.11 [2013-02-10] (68 blocks; 27,797 characters, including 22,533 CJK unified ideographs)
---
Samples
Traditional Chinese Text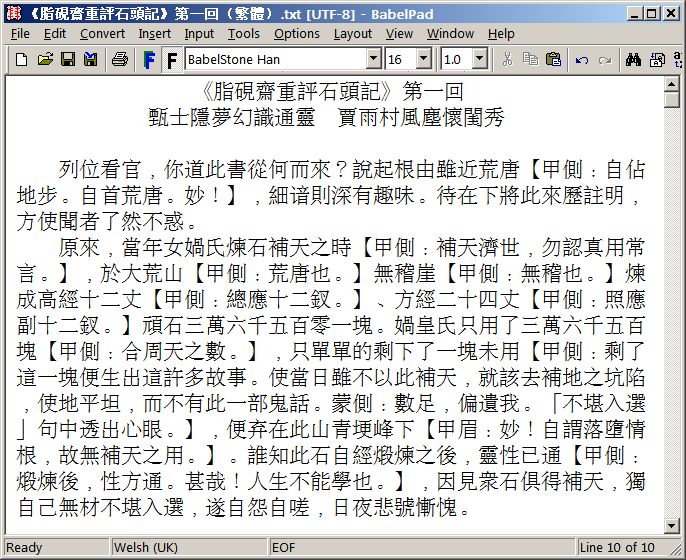 Simplified Chinese Text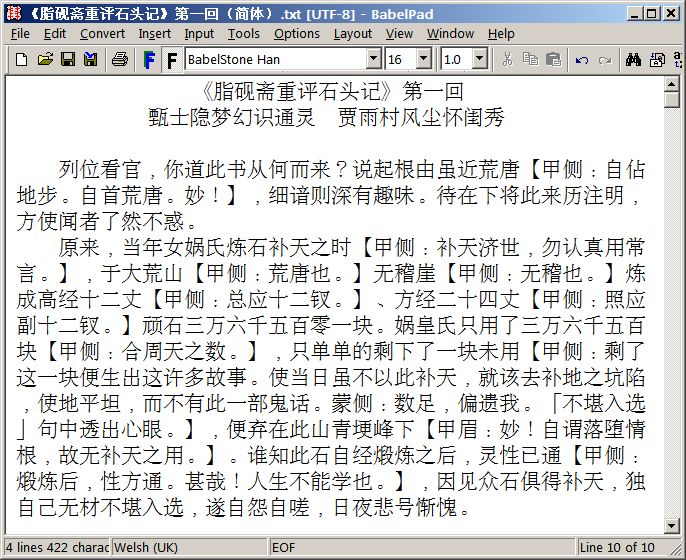 ---
Coverage
The font currently has coverage of the following blocks:
Unicode Block
Range
Coverage
Character Width
Notes
Basic Latin
00000..0007F
96 out of 128 characters
Half-width
 
Latin-1 Supplement
00080..000FF
86 out of 128 characters
Half-width
 
Latin Extended-A
00100..0017F
18 out of 128 characters
Half-width
 
Latin Extended-B
00180..0024F
18 out of 208 characters
Half-width
 
IPA Extensions
00250..002AF
9 out of 96 characters
Full-width
 
Spacing Modifier Letters
002B0..002FF
7 out of 80 characters
Half-width
 
Combining Diacritical Marks
00300..0036F
13 out of 112 characters
Mixed
Full-width combining overline, underline, dot above/below and ring above/below for use with Han ideographs.
Greek and Coptic
00370..003FF
48 out of 134 characters
Full-width
 
Cyrillic
00400..004FF
66 out of 256 characters
Full-width
 
Tibetan
00F00..00FFF
4 out of 211 characters
Half-width
Svasti signs
Mongolian
01800..018AF
3 out of 156 characters
Full-width
Lozenge-shaped punctuation marks.
Phonetic Extensions
01D00..01D7F
4 out of 128 characters
Half-width
 
Latin Extended Additional
01E00..01EFF
6 out of 256 characters
Half-width
 
General Punctuation
02000..0206F
107 out of 107 characters
Mixed
 
Superscripts and Subscripts
02070..0209F
42 out of 42 characters
Half-width
 
Currency Symbols
020A0..020CF
1 out of 26 characters
Full-width
 
Combining Diacritical Marks for Symbols
020D0..020FF
1 out of 33 characters
Full-width
Combining enclosing square
Letterlike Symbols
02100..0214F
26 out of 80 characters
Full-width
 
Number Forms
02150..0218F
51 out of 58 characters
Full-width
 
Arrows
02190..021FF
11 out of 112 characters
Full-width
 
Mathematical Operators
02200..022FF
37 out of 256 characters
Full-width
 
Miscellaneous Technical
02300..023FF
3 out of 244 characters
Full-width
 
Enclosed Alphanumerics
02460..024FF
160 out of 160 characters
Full-width
 
Box Drawing
02500..0257F
128 out of 128 characters
Full-width
 
Block Elements
02580..0259F
32 out of 32 characters
Full-width
 
Geometric Shapes
025A0..025FF
96 out of 96 characters
Full-width
 
Miscellaneous Symbols
02600..026FF
39 out of 256 characters
Full-width
 
Dingbats
02700..027BF
11 out of 191 characters
Full-width
 
Braille Patterns
02800..028FF
256 out of 256 characters
Full-width
 
Latin Extended-C
02C60..02C7F
1 out of 32 characters
Half-width
 
Supplemental Punctuation
02E00..02E7F
3 out of 50 characters
Full-width
 
CJK Radicals Supplement
02E80..02EFF
115 out of 115 characters
Full-width
 
Kangxi Radicals
02F00..02FDF
214 out of 214 characters
Full-width
 
Ideographic Description Characters
02FF0..02FFF
12 out of 12 characters
Full-width
 
CJK Symbols and Punctuation
03000..0303F
54 out of 64 characters
Full-width
 
Hiragana
03040..0309F
93 out of 93 characters
Full-width
Decomposed (NFD) characters and named sequences also supported.
Katakana
030A0..030FF
96 out of 96 characters
Full-width
Decomposed (NFD) characters and named sequences also supported.
Bopomofo
03100..0312F
41 out of 41 characters
Full-width
Poor quality glyphs.
Kanbun
03190..0319F
16 out of 16 characters
Half-width
 
Bopomofo Extended
031A0..031BF
27 out of 27 characters
Full-width
Poor quality glyphs.
CJK Strokes
031C0..031EF
36 out of 36 characters
Full-width
 
Katakana Phonetic Extensions
031F0..031FF
16 out of 16 characters
Full-width
 
Enclosed CJK Letters and Months
03200..032FF
191 out of 254 characters
Full-width
 
CJK Compatibility
03300..033FF
73 out of 256 characters
Full-width
 
CJK Unified Ideographs Extension A
03400..04DBF
1,077 out of 6,582 characters
Full-width
 
Yijing Hexagram Symbols
04DC0..04DFF
64 out of 64 characters
Full-width
 
CJK Unified Ideographs
04E00..09FFF
19,517 out of 20,941 characters
Full-width
Missing 1,424 characters, but covers most common-use traditional and all simplified Chinese characters, including all characters in the range U+9FA6 through U+9FCC which were added in Unicode 4.1 through Unicode 6.1.
Private Use Area
0E000..0F8FF
765 out of 6,400 characters
Full-width
E000..E01D: Song and Yuan dynasty flute notation symbols.
E020..E04B: Tang and Song dynasty lute notation symbols.
F000..F162: "second stage" simplified Chinese characters (二简字, 1977), "first batch" simplified Chinese characters (第一批简体字, 1935), and Singapore simplified characters (1969) that were proposed for encoding in Proposal to Encode Obsolete Simplified Chinese Characters (N3695).
F200..F292: miscellaneous unencoded Han ideographs character variants.
F2FD..F2FF: Chinese ligatures (合文).
F300..F3B9: unencoded characters and glyph variants from Xiàndài Hànyǔ Cídiǎn 现代汉语词典 (2nd ed., 1983).
F240..F40D: Sawndip characters.
NB PUA mappings may vary from version to version of BabelStone Han, and characters will be removed from the PUA as and when they are encoded. The current PUA allocation of BabelStone Han is detailed in this Excel worksheet (or as a tab-separated plain text file). The current PUA allocation includes 138 characters scheduled for encoding in CJK-E (N4358).
CJK Compatibility Ideographs
0F900..0FAFF
472 out of 470 characters
Full-width
 
Variation Selectors
0FE00..0FE0F
16 out of 16 characters
Full-width
 
Vertical Forms
0FE10..0FE1F
10 out of 10 characters
Full-width
 
CJK Compatibility Forms
0FE30..0FE4F
32 out of 32 characters
Full-width
 
Small Form Variants
0FE50..0FE6F
26 out of 26 characters
Full-width
 
Halfwidth and Fullwidth Forms
0FF00..0FFEF
173 out of 225 characters
Full-width
 
Specials
0FFF0..0FFFF
5 out of 5 characters
Full-width
 
Kana Supplement
1B000..1B0FF
2 out of 2 characters
Full-width
Archaic Hiragana and Katakana letters added in Unicode 6.0.
Tai Xuan Jing Symbols
1D300..1D35F
87 out of 87 characters
Full-width
 
Counting Rod Numerals
1D360..1D37F
18 out of 18 characters
Full-width
 
Domino Tiles
1F030..1F09F
100 out of 100 characters
Full-width
 
Enclosed Alphanumeric Supplement
1F100..1F1FF
171 out of 171 characters
Full-width
 
Enclosed Ideographic Supplement
1F200..1F2FF
57 out of 57 characters
Full-width
 
Miscellaneous Symbols And Pictographs
1F300..1F5FF
32 out of 533 characters
Full-width
 
CJK Unified Ideographs Extension B
20000..2A6DF
1,249 out of 42,711 characters
Full-width
 
CJK Unified Ideographs Extension C
2A700..2B73F
456 out of 4,149 characters
Full-width
Added in Unicode 5.2.
CJK Unified Ideographs Extension D
2B740..2B81F
222 out of 222 characters
Full-width
"Urgent need characters", added in Unicode 6.0.
CJK Compatibility Ideographs Supplement
2F800..2FA1F
542 out of 542 characters
Full-width
Glyphs are the same as the corresponding unified ideograph (glyphs will be corrected where necessary in a future version of this font).
Tags
0FE00..0FE0F
97 out of 97 characters
Full-width
 
Variation Selectors Supplement
0FE00..0FE0F
240 out of 240 characters
Full-width
 
---
Coverage
BabelStone Han covers all characters in the following dictionaries:
BabelStone Han covers all characters with the following source references in CJKU_SR.txt:
G0 GB2312-80
G9 GB18030-2000
GIDC ID system of the Ministry of Public Security of China, 2009
GXC Xiandai Hanyu Cidian (现代汉语词典﹚
GZH ZhongHua ZiHai (中华字海)
MAC Macao Information System Character Set ﹙澳門資訊系統字集﹚
---
OpenType Features
| Script | Language | Features |
| --- | --- | --- |
| Hiragana and Katakana <kana> | Default <dflt> | Glyph Composition Decomposition <ccmp> |